About Bunri University of Hospitality
ABOUT WHAT WE DO FOR YOU BY YOUR STUDYING WITH US:
Our three basic principles are as follows:
Training for attaining the knowledge and the expertise.
Cultivating the spirit of requiting the kindness done by others to you.
Cultivating the indomitable and dauntless mind.
BUNRI EDUCATIONAL POLICY:
Thou shalt do everything wi'heart;
Thou shalt be a man o'iron will.
Thou! Dost stick to th'ultimate end!
We devote our education to making our students develop a personality which has "The Knowledge", "The Heart"and "The Mind" all blended in harmony. For them to contribute to the society where they live, we are convinced that the knowledge and the expertise alone are not everything, but, it is important as well that the personality rich with resources be added thereto. At the same time, we firmly believe that "the spirit of the true hospitality" is also a must for a professional.
Why we make the above-mentioned three basic principles as the motto of our education? It is because we believe that by practicing these principles, we can raise such persons that can play a leading role in our society and contribute to making it a better place to live in.
The world today is fast evolving with arrivals of new knowledge coming one after the other. To cope with keeping abreast with these fast-paced changes of the times, education plays a very important role. We humans are living not alone but helping and supporting each other. We must love people. We must love our neighbors. We must respect all. The education here is designed, in particular, to create the persons of that quality, where our focus is and where our focus always remains.
We are striving to educate our students to do their jobs always with honesty, and to develop a strong will to accomplish their jobs. We teach them to learn how wonderful it is to accomplish a job. The harder the job, the greater the joy once fulfilled. Having them experience that is important for the cultivation of rich personality. We aim at raising persons of creativity, wisdom and humanity worth export to the community both at home and abroad.
HISTORY
| | |
| --- | --- |
| 1966 | Seibu College of Culinary Arts and Cookery opened. |
| 1972 | Seibu Cooking College opened. |
| 1974 | Establishment of an incorporated approved school "Seibu Gakuen". |
| 1975 | Seibu Gakuen Seibu Cooking College opened. |
| 1978 | Seibu Gakuen College of Medical Technology opened. |
| 1981 | Seibu Gakuen Bunri Senior High School opened. Changed the name to Bunri Sato Gakuen. |
| 1988 | Bunri Information Junior College opened. |
| 1993 | Seibu Gakuen Bunri Junior High School opened. |
| 1998 | Bunri Comprehensive Study Center opened. |
| 1999 | Faculty of Service Management opened in Bunri University of Hospitality (BUH). |
| 2004 | Seibu Gakuen Bunri Elementary School opened. |
| 2005 | Tokyo Ikebukuro School and Tokyo Shinjuku School of Seibu Gakuen College of Medical Technology opened. |
| 2007 | Department of Health & Welfare Management opened in the Faculty of Service Management of BUH. |
| 2009 | Faculty of Nursing opened. |
THE MESSAGE FROM THE PRESIDENT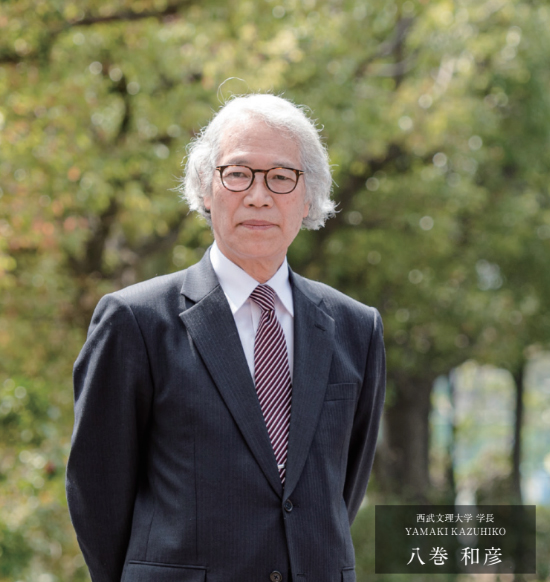 Kazuhiko YAMAKI, President
Bunri University of Hospitality
I HOPE THAT YOU WILL HONE YOUR SKILLS TO BE INCREASINGLY VALUABLE IN THE COMING AGE AT OUR UNIVERSITY, A "SCHOOL OF HOSPITALITY EDUCATION."
Human society, which has been developing steadily since the Industrial Revolution was established in Europe at the end of the 18th century, is now at a standstill in various aspects. The SDGs, or Sustainable Development Goals, were advocated at the United Nations General Assembly in 2015, triggered by a sense of crisis that the survival of human beings and the Earth is at stake if the status quo continues, and the SDGs have now become a widely shared goal in society.
As a philosopher, my interpretation of why human society has taken this path is due to the prominence of Descartes' three-pronged philosophy of "rationalism, anthropocentrism, and individualism" in the 17th century. While this had a positive aspect of promoting the development of science and technology, it has also given rise to a one-sided mindset that sees humans as god-like beings and stubbornly believes that quantifying all things and evaluating them based on numerical logic is the only correct approach.
A familiar example is the tendency to judge people's abilities by quantifying them, and as a result, a society was formed in which high school students are also often evaluated based on their "deviation score," which is obtained through exams. Japan, in particular, since the Meiji era in the late 19th century, has been trying hard to catch up with the West by embracing only the easily quantifiable aspects of Western civilization, or half of it. As a result, the creativity of the Japanese people as human beings is declining, and the country is even losing its momentum as a developed nation.
As a high school student, I had doubts about the future of Japan's period of rapid economic growth, and my curiosity about the totality of Western civilization led me to major in Western philosophy. There, I found an abundance of thoughts that also recognized the value of "emotion" and "will", without giving priority to "knowledge" alone in evaluating human beings. I also realized that such thoughts also existed in Japan.
In the future, AI will be responsible for most of the "knowledge" that can be expressed in numbers. Then, what kind of abilities will be sought after and more valued instead? It is the creative ability in which "emotion" and "will" play an important role. It is the ability to treat others who appear before you with flexibility and sincerity. This is the spirit of "hospitality" that we at Bunri University of Hospitality value.
With a tradition that has taken root in our university since its founding, the faculty and staff educate students with the spirit of hospitality. By doing so, our students acquire the spirit of hospitality before going out into the world, and our alumni contribute to society with that spirit of hospitality.
Even if some would argue that individualism is the fundamental spirit of modern society, human beings can never live alone in the first place. We rely on others when necessary and willingly support those in need when we encounter them. I am convinced that the spirit of hospitality, in which we mutually support each other this way, can lead today's distorted and sick society to a healthy and sustainable society.
From this perspective, we would like to further our efforts to contribute to the local community, as one of our goals would be to nurture our students to become individuals who can contemplate the significance of the society in which we live and contribute to the sustenance and development of that society.
Now, I invite you, all prospective students, to imagine yourselves finding your place here at Bunri University of Hospitality, where nature abounds and the air is delicious, and growing by leaps and bounds. If you have not found your place here after six months of enrollment, please do not hesitate to visit me, the president, so that we can find a place together.
OTHER INFORMATION
Vision/Mission
Our founding principles are: "the cultivation of scholarship and professional skills", "the development of a spirit of appreciation" and "to persevere on the quest for excellence". We stress the following sentiments: "Do everything with heart; be a person of iron will; and see everything through to the end". This is the Bunri Educational Policy. These words embody our wish that our students will always work hard in order to gain new knowledge, skills and technological learning backed by respect for humanity.
Bunri Schools teach the students to aim high by cultivating intelligence and emphasizing morality, while showing respect for both freedom and discipline, training both the mind and the body. We encourage fairness and integrity. We are also dedicated to training our students to be true ladies and gentlemen people with compassionate hearts, ready to serve their society and humanity. This is because we hope they will become the leaders who will serve not only the Japanese community but the global society as well.
Background
Bunri University of Hospitality was founded in 1999 as Japan's first Faculty of Service Management by the Bunri Sato Gakuen Educational Institution. Bunri University of Hospitality offers Japan's first 4 year bachelor's degree course with strong emphasis on management in hospitality and service industries as its field of research. We are proud that Bunri University of Hospitality is one of the pioneers which made "Hospitality Management" popular in Japan's higher education.
Bunri Sato Gakuen Educational Institution was established in 1966. The founder Mr. Hideki Sato has been managing several types of schools, ie; Culinary Art College, College of Nutrition and Medical Technology, Seibu Gakuen Bunri Elementary School, Seibu Gakuen Bunri Junior and Senior High School. He dedicated himself to his ideal education focus on "Omotenashi" since he opened his first cooking school more than 50 years ago.
Fields of Study
Bunri University of Hospitality consists of two departments; the Faculty of Service Management and the Faculty of Nursing. Faculty of Service Management is the only one faculty in Japan to be specialized in Service Management and Hospitality. It has two departments and 5 courses; the department of Service Management (Hospitality and Tourism, Service Management, Global Economy and Finance), Department of Health & Welfare Management (Social Welfare, Health Service).
On the other hand, the Faculty of Nursing offers 4 years nursing program underpinning the principles of by hospitality.
Overseas Students
Overseas students who came to study with us at the Faculty of Service Management were from China, Indonesia, Laos, Latvia, Malaysia, Mexico, Mongolia, Myanmar, Nepal, South Korea, Sri Lanka, Taiwan, Thailand, Ukraine and Vietnam.
Location
The campus is located in Sayama City, Saitama Prefecture. This region is known as a comfortable residential area full of nature and urban conveniences for business persons commuting to Tokyo. Sayama-shi Station is an entrance gate to world famous Kasumigaseki Country Club golf course.
As Sayama City is only 40km north of Tokyo and many domestic students are living in Tokyo and Saitama area, Bunri university of Hospitality students enjoy opportunities of internships and working experiences in hospitality and service industries in Tokyo.
Last but not least, Sayama is famous for its green tea product "Sayama- Cha", which is popularly considered one of three best Japanese teas for its good taste.
Employees
Faculty of Service Management: 29 faculty members, 1029 students (latest data)
Faculty of Nursing: 31 faculty members, 342 students (latest data)
Highlights
University opened in 1999.
Department of Health and Welfare Management opened in 2007.
Faculty of Nursing opened in 2009.
State financed project to develop a Human Resourse Cultivating Program for Promoting Innovation in Service Sector in Japan in 2007-2009
State financed project to develop a Program for Promoting Student Services in 2010-2012
State financed project to develop a Human Resources and Employability Development in Service Sector in 2010-2011
State financed project to develop a Program for Enhancing Students' Career Development by Industry-University Cooperation in 2012-2015